Olson Carriers
Monday, November 4, 2019 - 12:00pm
A representative from Olson out of Rosemount, MN will be stopping by our South St. Paul campus to talk about the driving positions they have for new drivers.
Olson Carriers, Inc. is a family owned "for hire" carrier, specializing in the transportation of dry bulk materials. 
 
Olson Carriers, Inc., a local family-owned company, is looking for local drivers to join our modern end dump fleet. All trucks are 2014 and newer Peterbilts, Volvos and Freighliners with automatic transmission. Trailers are equipped with access doors (don't have to climb over the side) and electric tarps with remotes.
Run in MN, WI and IA
Drivers are home every night
Year-round work; busy in the winter
All drivers are assigned their own truck and trailer – no slip seating
Flexible hours
Possibility of on the job end-dump training​
For more information on Olson Carriers and other truck driving companies give us a call at
651-735-9250.
Recruiting events are free and open to the public. Dates, times and location are subject to change. Call 651-735-9250 for updates.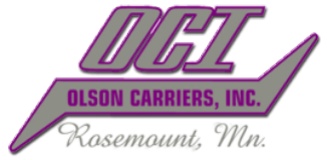 Approved For Veterans Using GI Bill Benefits
Made in America
Since 1998